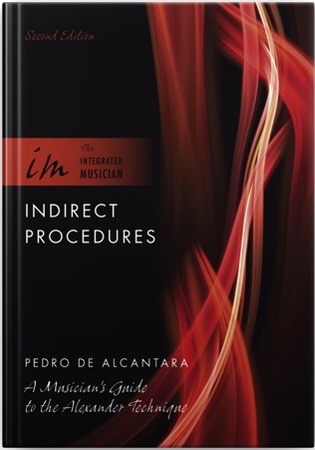 Last year, during the first lockdown due to the COVID-19 pandemic, I read the very interesting book 'Indirect Procedures' by the cellist and writer Pedro de Alcantara. This book is a musician's guide to Alexander Technique. The writer explores the principles of the Alexander Technique through the perspective of a string player. One of the principles the writer examens in his book is 'Faulty Sensory Awareness' (FSA). FSA happens when we receive inaccurate information about our physical condition, our movements, and our position in space, or we interpret the information we receive inaccurately.
An example of FSA that Alcantara mentions in his book, and I believe that most of us have experienced, is when we record our voice. When we listen back to the recording, we can't believe that our voice sounds like that.
Let's explore an example related to string playing. Has it ever happened to you that your teacher indicates a mistake you make but you either don't realize it or even worse you are sure that you didn't make this mistake? For example, the teacher notices that you bend your left wrist inwards too much and because of that your hand becomes stiff and the intonation suffers. However, either you don't realize that you are doing that, or you are sure you have a good hand position, and your intonation is decent. It can also happen that the teacher indicates the mistake to the student through a mirror or a video recording, but the student doesn't see it or thinks that the mistake was an accident and not a general problem.  Whether the student accepts that they are wrong or not is a challenge for the teacher which I will explore in a different article.
FSA can distort our thought and feeling regarding every aspect of our playing. It can distort the sense we have about rhythm, intonation, the volume and character of sound we produce and how freely we move our hands.
Proprioception
FSA is a symptom of distorted proprioception. Proprioception is the sense that helps us determine the position of the parts of our body, their speed and direction in space and it helps our brain direct our movements. This process happens unconsciously. For example, when you want to open the fridge, you just pull its door with your hand. You don't need to consciously think where your hand is, then calculate the distance between you and the fridge door, and finally decide and perform the required movements.
Why does our awareness become faulty and how can we fix it?
There are several reasons responsible for the distortion of our sensory awareness. In extreme cases it can be the result of a disease or an accident. The most common reasons are the following: we make some wrong movements which become habitual, and we no longer notice them. Furthermore, the way we move might be rigid, which can block our proprioception. Finally, distortion of sensory awareness can be the result of "overuse" of our senses. For example, when we practice, we may not pay much attention to intonation or think that the out-of-tune notes are just "accidents". As a result, after some time, we don't even notice these notes. This often happens with advanced violinists who don't practice intonation in a detailed manner because they take it for granted.
It has been evident that through Alexander Technique we can bring our proprioception to conscious control and thus to improve our posture, quality of movement and the sense we have about our body in space. That is the first step before we focus on improving our sensory awareness in relation to our playing.
We can improve FSA in our playing by video recording our practicing, by playing in front of a mirror, or by playing to a colleague who has extensive knowledge of violin technique.  In the case of video recording, we should do it a few times and each time from a different angle so we can get a complete image of our playing. However, the most important thing in improving our sensory awareness, is to accept the mistakes we make even if they seem totally the opposite of what we believe we do when playing. FSA is something that we must be aware of throughout our musical career if we want to use our bodies optimally.  Violin playing is consisted of many small and fine movements, so it is easy for bad habits to emerge without us noticing them.
Ivan Galamian, who had students of the highest caliber, insisted that they always work on the basics. It is striking that he asked his students to always make sure that they make a straight bow stroke because this is a movement that can easily ware off without the violinist realizing.
In conclusion, I strongly recommend the book 'Indirect Procedures'. You will not only benefit from learning about Alexander technique and string playing, but also understand the different aspects of FSA as these are discussed throughout the book.